It's finally Christmas day, and we hope that you're all having a wonderful time with your family and friends during this season of giving. Santa has been and gone, and he's left some awesome gifts behind for us to hand out to some very lucky winners!
On the first day of Christmas, my true love gave to me...
A giveaway! That's right, for the next 12 days, every day we will be hosting giveaways in-game. You could be a lucky winner and land yourself 1 of 12 major prizes that include real-life goodies, or one of a handful of smaller in-game prizes!
To ender the giveaway, simply do the /giveaway command in-game which will open up a menu that shows the current day's prizes. Everyone is a winner, with small prizes being given to anyone that opens their present each day, but there's an extremely rare chance that you can open something major!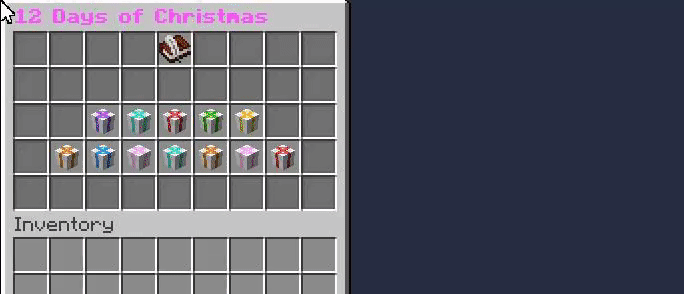 Every day there will be a new list of items related to your gamemode that you can win, as well as network-wide major prizes that are limited to the whole of The Archon. For example, you could win crate keys or other items related to your gamemode, or you could be one of the lucky people who wins a PayPal prize across the network.
When a player wins a major item there will be a broadcast in chat network-wide announcing that they have won. There will also be a message sent to the winner(s) on how to claim their prize. Everyone is a winner of a minor prize, and there will be a message in chat letting you know what you won.
Prizes will need to be claimed via -ticket on our Discord server, and winners must have a linked Discord account. To prevent entries from being abused using alt accounts, there will be a limit of 1 prize per IP address, no use of VPNs, and can only be claimed on 1 server.
We wanted to give back to the players who have made The Archon what it is today, so thank you for your time and dedication to the server, so a very best of luck with the giveaway! We're giving away over $2300 worth of major prizes in a mixture of real-life goodies and Store Credit, so a very best of luck with the giveaway!
Christmas Activities
Take a look at what we've added to the server for the Christmas festivities this year!
A very Merry Christmas and Happy Holidays from the entire team here at The Archon. We hope you all have a fantastically festive holiday season and make sure that you stay safe by being socially distanced while celebrating! Thank you for your dedication and everlasting support for the server, see you online.