Hello everyone, welcome to the Prison Azkaban Reset post!
The current season of Azkaban has come an end and the realm will be resetting this Saturday December 12th at 2:00 PM EST / 4:00 AM AEST / 7:00 PM BST.
We hope you've all been enjoying Prison on The Archon and are looking forward to the next season. Thank you all for your support and suggestions regarding the Azkaban server, you're helping every day by making it a better realm for you all to enjoy. Without further ado, lets get into the new content!
New Spawn
With a new reset, comes a new spawn! As Christmas is upon us, we've added some festive decorations to this map's spawn and warzone.
Augmentation Changes
With the addition of Augmentations last season, we've made a few changes to make the system overall smoother to use, as well as adding new Augmentations!
You will now be able to bulk-craft Augmented Fragments, meaning you no longer have to craft them all individually and can craft more than one at a time. This allows for the whole process to be sped up significantly, so you don't have to waste time creating Augmentations individually.
To begin crafting multiple Augmentations, simply right-click on the synthesize fragment section to cycle through how many fragments you'd like to use. You can use 50, 250, 500, 1250 or 2500 fragments at a time.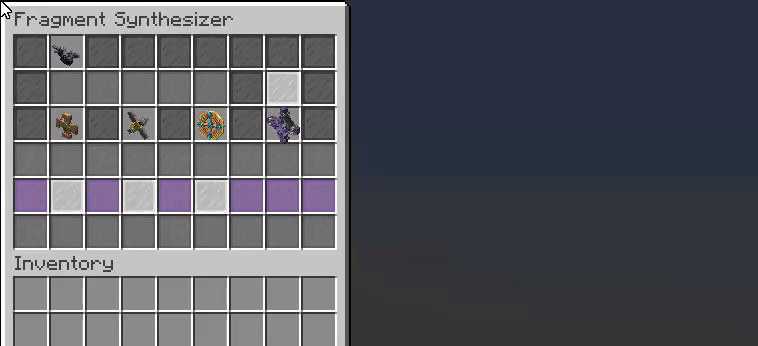 New Augmentations
Introducing 3 new Augmentations! There are 2 new Glowing Augments, and 1 new Sparkly Augment.
MineStorm (Glowing): When this is activated, TNT will rain down on the mine causing craters.
Aura Bomb (Glowing): There is a chance that a circle of 1-4 blocks spawn in a radius around the player, made from some of the blocks they are currently mining.
Crystaliser (Sparkly): When you receive a Crystal from mining, there is a chance that you will receive additional Crystals of the same type when this augmentation activates.
We will also be allowing players who are ranked Hustler and above to add 2 Augmentations to pickaxes, instead of just 1.
Sapphire Pet
The brand new Sapphire Pet has a chance of giving you Augmented Fragments. Level up your pet
Level 1: 5 fragments
Level 2: 10 fragments
Level 3: 15 fragments
Level 4: 20 fragments
Level 5: 25 fragments
When wearing the Sapphire Mob Armor there is a chance, depending on how many pieces you're wearing, to randomly find an Augmented Fragment. Walking the Sapphire Pet pet gives you some extra fragments when you earn them normally.
Prestige Challenges
Last season we introduced the blocks broken requirement needed to prestige past Prestige 15, in an attempt to tackle high level players giving their alts or friends money to level up easily.
This season we are introducing Prestige Challenges, which you must complete in order to prestige past 15. Challenges will consist of collecting a certain amount of Rare Candies, refining a large total of Jolly Ranchers, as well as other candy farming and refining challenges.
Additional Changes
We will be adding a Candy scoreboard with information about the cooldowns and use time of candies.
Changes were made to the Uranium Pickaxe's Tunneler Pattern
Reduced the effect of Jolly Ranchers with the Tunneler ability
Reduced chance for the Upgrader enchantment to activate
Reduced effects of the Token Scan enchantment
Reduced the set bonuses for some pet armor
Nerfed some pet follower bonuses
Removed disenchantable upgraders from crystals
Nerfed mine sell prices
We hope to see you for the next season of Prison Azkaban on Saturday at 2 PM EST! Let us know what you think about the upcoming season on our Discord server.