Hello everyone, welcome to the Prison Azkaban Reset post!
The current season of Azkaban has come an end and the realm will be resetting this Saturday August 29th at 2:00 PM EST / 4:00 AM AEST / 7:00 PM BST.
We hope you've all been enjoying Prison on The Archon and are looking forward to the next season. Thank you all for your support and suggestions regarding the Azkaban server, you're helping every day by making it a better realm for you all to enjoy. Without further ado, lets get into the new content!
New Spawn
With a new reset comes a sweet new spawn and warzone! Check out the candy-filled goodness below:
Gangs Update
We recently added the Gangs Rework to Azkaban, a few weeks earlier than we planned to, so we could get feedback and make some tweaks before the full Prison reset.
Previously, when players joined one of the three gangs, they unlocked a bunch of perks and passive effects that were related to that gang's theme. Now, in the re-worked Gang system, there's so much more you can do!
Level up your gangs and unlock perks and abilities as you progress. If you're not up to date with the Gangs Rework, read all about it here:
Pet Armor
Earlier this month we added Pet Armor to Prison! If you're not familiar with how it works, we'll give you another quick rundown:
What is Pet Armor?
Your pets will reward you with special pet heads periodically whilst they're active in your Pet Ranch. These gifted Pet Heads can be claimed straight from your Pet Ranch's bank and you can craft them into different types of Pet Armor! Access the menu using /petarmor.

Crafting Pet Armor
Pet Armor is crafted the exact same way that normal armor is created in a crafting table, except you use Pet Heads instead! Simply place them in the crafting table like you would with ores to create boots, leggings, chestplates and helmets.
New Pet Armor
For the upcoming reset, we've added 2 new types of Pet Armor - The Ruby & Amethyst Elemental Pet Armor! Both of these new armor types are obtained the same way as the other types of Pet Armor that we already have. Both sets have awesome unique bonuses. Check them out:
Amethyst Elemental Armor
1 Piece bonus: Have a 1/25000 chance to find an enchantment key while mining
2 Piece Bonus: Have a 1/20000 chance to find an enchantment key while mining
3 Piece bonus: Have a 1/15000 chance to find an enchantment key while mining
Full set bonus: Have a 1/10000 chance to find an enchantment key while mining & a 10% chance to not use up a book when adding books to pickaxes

Ruby Elemental Armor
1 Piece bonus: 1/1000 chance to mine random raw candy
2 Piece Bonus: 1/1000 chance to mine refined candy
3 Piece bonus: 1/1000 chance to mine tastycandy
Full set bonus: 1/1000 chance to mine delicious candy
Boss Showdowns
The Boss Showdown event takes place once a day in the Dimension Hopper world's P25 Mine. Players will be given 5 minutes to join the event before it begins. Anyone that is participating in the event will have to battle all of the current bosses - Warlord, Titan and Skull one after the other. At the end of battling the bosses, the brand new Wither Boss will appear.
The Wither Boss appears at the end of the Boss Showdown, you won't see it spawn at any other time during the day. This boss is even more powerful than the other bosses, so be careful and well prepared when battling it! While you are waiting for the Wither boss to appear after defeating the other bosses, you can use /ally [name] to request someone else to aid you in the battle.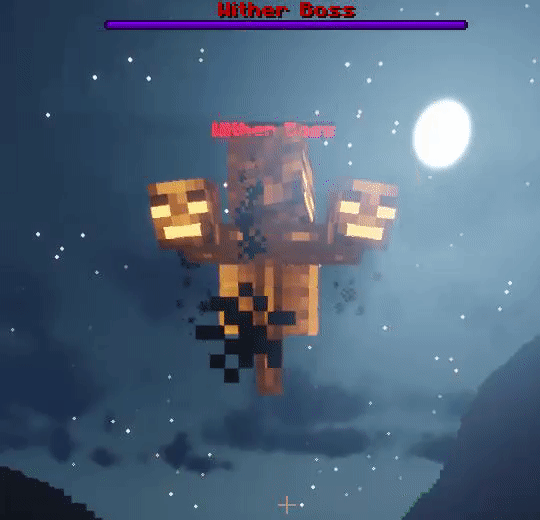 Players will receive the Boss Showdown Crate, which has a higher chance of giving you better rewards compared to the normal Boss Crate!
Additional Changes
Prestige prices changed and updated to be more balanced.
EXP from crates have been nerfed.
Price of money pouches has been lowered in the EXP shop.
Price of Minebombs has been lowered in the EXP shop.
Removing Robots from Azkaban altogether, we felt like they just weren't up to standard.
Added Boss Lures to crates.
We hope to see you for the next season of Prison Azkaban on Saturday at 2 PM EST! Let us know what you think about the upcoming season on our Discord server.