Hey everyone, welcome to the Skyblock Chaos reset post.
The newest map of Choas will be released this Saturday June 4th @ 1:00 PM EDT / 4:00 AM AEST / 6:00 PM BST.
Island Top Payouts
Skyblock Chaos has weekly Payouts for the top islands. Here's what you can expect to win:
1st: $200 Paypal
2nd: $50 Paypal & $90 Buycraft
3rd: $25 Paypal & $50 Buycraft
4th: $25 Buycraft
5th: $15 Buycraft
How do we get our payout if we win?
Set your PayPal email on the server with the command: /paypal [email]
Set your Buycraft email on the server with the command: /giftcard [email]
Crop Top Payouts
The top 3 players with the most crops harvested (now counting all crops) at the end of the season will receive the following rewards:
1st: $50 Paypal
2nd: $30 Buycraft
3rd: $15 Buycraft
New Spawn
Let's jump right in! With the new reset comes a new spawn, screenshots can be found below:
Economy
We have spent some time reworking and re-balancing the Chaos economy. The new economy document can be found here:
New Bosses & BossPass
In the darkness, something is stirring. The ground shakes with a deep, unsettling rumble... you take another step, then another, further into the nothingness. After what seems like forever, the noise stops suddenly, and all is silent-
-the silence is replaced by a piercing screech, just as quickly as it had dissipated before. You lose your balance, stumbling backward into a pile of ancient debris. A light emerges in the distance, and you can now see what surrounds you on the cold, damp floor... swords, shields, armor... bones.
3 powerful beings have watched quietly from afar for eons, hoping that none of those puny wanderers would step foot on their sacred lands. You, little warrior, have gone too far, and now there is no turning back.
3 New Bosses
Introducing 3 new powerful bosses:
The Yeti Boss
The Alchemist Boss
The Nightshade Boss
Each boss has its own unique set of abilities and attacks, can you take them on and earn yourself some awesome rewards? To fight against these new bosses, simply head over to the /boss menu. Boss fights start at certain intervals throughout the day, but can also be summoned at any time using Boss Starter Wands.
Boss Pass
Access the new /BossPass and earn additional rewards for gaining Boss EXP! Simply fight against bosses to increase your EXP, and when you've hit the required milestones, you'll receive rewards.
With 20 levels altogether, there's a whole bunch of stuff to claim, varying from money and crate keys to Mobcoins and spawners!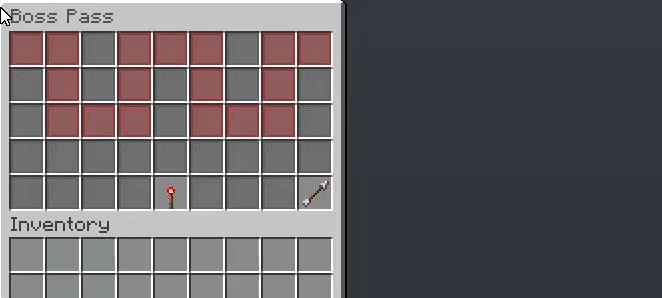 Last Reset
During the last Chaos reset, we made a few balancing changes. Read all about it below:
Keep your eye out on our Discord, Twitter, and website for all the new updates coming out in the future. Thank you everyone for another amazing map, see you all at 1:00 PM EDT on Saturday for the Chaos reset!