Hey everyone! A very happy Valentine's Day to you all. Today we've got some special new features lined up for you to enjoy, as well as a MASSIVE Love Struck Sale, for 1 day only!
That's right, for Valentine's Day only, we are hosting a HUGE 60% OFF FLASH SALE! Be sure to grab yourself that item you've been dreaming of, or one of our limited-time Valentine's Box of Chocolates crates while you still can! The Sale ends on Tuesday at 4 AM EST, so head on over to the store now.
NEW /Showcase
Introducing the brand new menu where you can place the items that hold a special place in your heart, and show them off throughout the many seasons to come!
Your showcase will remain forever, and will never be reset or deleted when a realm resets for a new season. Showcases are global, and not realm-specific, meaning you can see your showcase on any server.
Everyone, no matter what rank or realm will have access to 2 rows of slots in your Showcase. Additional slots can be found in crates, Skydrops, Contraband, and more! Once you have added an item to your showcase, you will not be able to remove it again, as it will be deleted - only add your item if you are 100% sure!
To add items to your showcase, simply shift-click it, and a menu will pop up where you can decide to place it in or not. As well as this, you can do /showcase add whilst holding the item in your hand. You can view other players' showcases by typing /showcase [IGN] or show off your own by doing [showcase] in chat!
Marriage System Update
Last year for Valentine's Day, we released the Marriage System for the /friends menu. This year, as a lot of players will be coming up to their 1 year anniversaries, we've released the milestone update!
Upon reaching certain milestones - 3 months, 6 months, 1 year - there will be a broadcast in chat letting everyone know about this achievement! For months 3 and 6, the broadcast will be on your local realm, but for 1 year, it will be a network-wide announcement!
As well as this, you'll receive a small cosmetic item to celebrate the occasion, with the information of your marriage anniversary on it. These items can be claimed from your /friends menu in the Marriage Gifts section, and both you and your partner can claim them. Perhaps you can show these off in the new /showcase!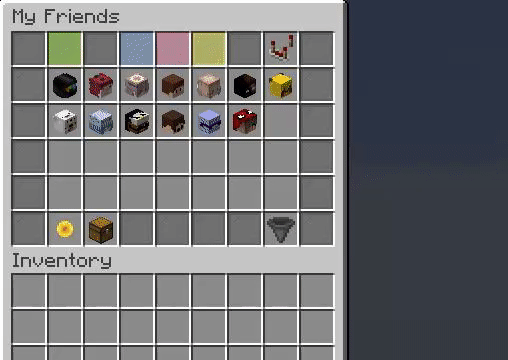 Limited-Time Crate
The limited-time Valentine's Box of Chocolates is currently available from now until Tuesday at 4 AM EST so grab one while you can! You can find them in the crate keys categories on shop.thearchon.net.
Your Valentine's Box of Chocolate Crate could contain the highly desirable Valentine-themed tags, heart chat emoji, Cupid Rank, Heart Trail, Blush emote, or Fairy Wings! The contents of your crate will vary based on the realm, so you can check out what each crate contains in the post below:
Happy Valentine's Day from the team here at The Archon. We hope you all have a great day and that you don't eat too many Valentine's chocolates! Thank you for your love and everlasting support for the server, see you online.