Greetings everyone, the newest season of Factions Onyx is here!
Realm Information
Map 25 of the realm will release on Saturday May 9th @ 3:00 PM EST/6:00 AM AEST/7:00 PM BST
20 day maps – 6 days of grace & 14 days of TNT
45 man factions
3 second cannons
25 Chunk Buffers
Faction Shields last 8 hours
125 Power per player
100 Roster Size 4 kick per day, max of 8 at one time
F Roster kick limits enabled on Monday @ 3:00AM EST
Faction Shields are set on Friday @ 3:00AM EST
Mining Spawner costs change from being free to costing 40% of their shop price on Friday @ 3:00AM EST
TNT drop rates changed from Grace drop rates (25%) to Raiding drop rates (75%) on Friday @ 3:00AM EST
8 grinding areas of 18 Silverfish Spawners in the Mycelium World (Reached & Exited via a End Portal)
No Regens
Sugarcane Economy
Custom Enchants
$2,500 F-Top - $1500 Paypal & $1,000 Buycraft
5 custom worlds along with the overworld with a border of 2500 x 2500 giving 24 corners – These can be reached with the warp names: End, Nether, Redworld, Greyworld & ClayWorld
During grace, TNT & Creeper Eggs will be disabled
During the first 30 minutes of the map, Faction Fly will be disabled
Faction-Top Payouts
As usual, the first 6 days of grace period will have no payout. Here are the prizes for the payout placings:
First Place: $1000 Paypal & $500 Buycraft
Second Place: $300 PayPal & $300 Buycraft
Third Place: $200 PayPal & $200 Buycraft
Fourth Place: $100 Buycraft
Fifth Place: $50 Buycraft
Note: FTOP will be paid out once per week that raiding is enabled. The amounts listed above are the total amounts we are giving away to the winners.
How do we get our payout if we win?
Set your PayPal email on the server with the command: /paypal [email]
Set your Buycraft email on the server with the command: /giftcard [email]
New Spawn
With a new season comes a new spawn and other builds! Check them out below:
Custom Terrain
The custom terrain is just stunning, take a look for yourselves!
New Content
Duel Changes
The /duel plugin has had a revamp including a nice new menu and more settings! Players will now be able to participate in 2v2 & 2v1 duels if the map you fight on can hold more than 2 players. The soup bowls being empty or full indicate whether you've completed that part of the duel setup.
Create your own custom kit to duel someone with or use one of the new premade kits. Choose what type of armor, weapons, food and potions you want to use in your kit. You can create and save up to 4 custom kits.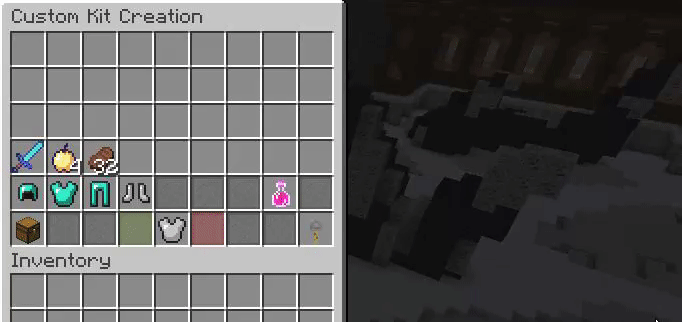 Customize what enchantments you want on your armor and weapons.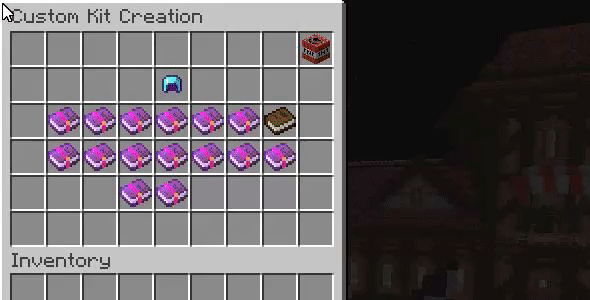 Create a public or private duel. If your duel is public, then players will be allowed to spectate with /duel spectate [IGN] as well as the duel results being broadcast in chat for all players to see. You can turn off duel broadcasts in the duel setup menu.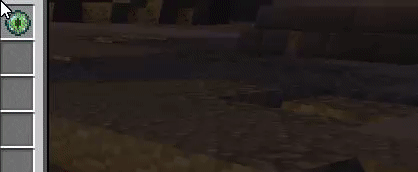 Auction House
Bidding Slot
The brand new Bidding Slot is now available on the auction house, accessible by doing /ah in game.
Players can bid to own the slot, where they'll be able to list an item that they wish to sell.

To claim ownership over the slot, players have until the previous owner's slot expires or a minute to bid for the slot. After time's up, the player with the highest bid claims ownership!
Only 1 player can own this slot at a time, and whoever owns the slot gets an auction listing that appears in the main auction house menu and can be bid on by other players.

This biddable slot means players can get more money for the items they are selling if people are competing for it. While there is a bid running, players will still be able to bid on whoever gets the next auction slot.
Auction Search
You'll now be able to search for items in the auction house with ease! Players can do the /ah search (item name) command in chat or simply click the compass in the top right of the auction house menu.
After doing the command, a menu will come up with the items relating to your search.
Request Items
Players can now request items that they wish to buy in the Auction House. To begin creating requests, do /ah as normal. Click on Request Items at the middle-bottom and it will take you to the Requests menu.
Click the beacon in the bottom-right to begin looking for items that you want to request. Scroll through each of the the categories by shift-clicking the doors to find the items that you need.
There is a special custom items section in the menu which is a bit bare at the moment, but we'll be adding more items to the list over time (we've got quite a lot of custom items!) so please bare with us.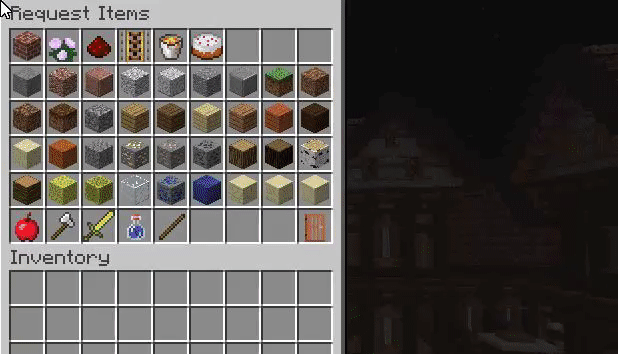 Find the item you want to request and click on it. This will take you to a menu where you can decide to add more items to your request list or finish creating the request.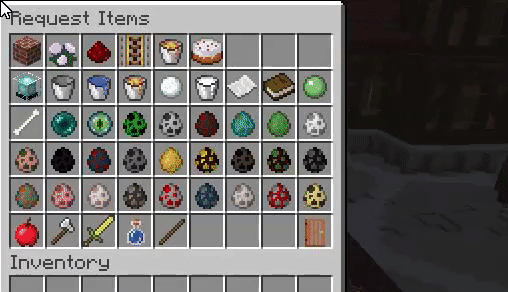 After creating the request, you'll be asked to type in chat how much you're willing to pay for the item(s) you're requesting. Type in your desired amount and you'll be able to see your requests in the menu. If you're unhappy with the request, you can always cancel it.
If you're looking to fulfill someone's Auction Request, then you can click on their item in the requests category.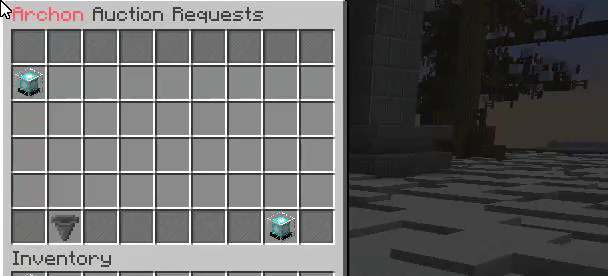 Once you've offered the item that the player has requested, you'll be given the money that they offered to pay out. The player who requested the item will then be able to collect it from the requests category.
Death Bans
We will be adding Death Bans to Onyx. If you die in the Arena, Outpost, Mycelium or Boss World then you will receive a 10-15 minute Death Ban depending on your rank. During this time, you will be unable to log onto Onyx on the account or any account on the same IP.
Along with the addition of Death Bans, we will also be adding in Lives! Those with ranks will obtain free lives every map however everyone will be able to buy lives on the Store! The top rank will receive 8 Free lives a map and every lower rank receiving 1 less life.
Additional Changes
Creeper drop rates will be changed. During Raiding/TNT, there will be a 25% chance that 1 piece of TNT will drop from a Creeper and during Grace there will be a 75% chance.
Emerald sell price will be lowered to $40 per Emerald. Iron ingot sell price will be lowered to $100 per Iron Ingot.
When Zombie Pigman, Enderman & Iron Golems are killed, you will be guaranteed 2 of their respective drops every time
The first 1,600 blocks in all directions of the Overworld will now be filled with unique terrain along with a road from spawn in all 4 directions.
An active Essence Booster will now show up in /booster.
You will now require less EXP to spin for books in /enchant. To spin a Level 1 enchant you will require the equivalent EXP of 15 levels, to spin a level 2 enchant it will be 30 levels & level 3 enchant will be 45 levels.
Expect to see broadcasted messages throughout the map to ensure you are aware of important events like when Spawner Mining costs are enabled or when Faction Roster - Kicks become limited.
Along with broadcasted messages, we will be updating /grace to include when TNT is enabled, Spawner mining costs are enabled, TNT drops are increased, Faction - Roster kicks become limited & when you can no longer change your Faction Shield.
Sugarcane buy price is now $50 per sugarcane.
You can now obtain 18 stacks of Sugarcane from the Archon Pass by travelling 500 blocks.
We have refined the size of nuke holes to ensure they are larger and inline with what is expected
We have added a delay for mobs to spawn from spawners when they are initially placed
There will be new tags to replace the current tags in the Crates & Archon Pass
Onyx's Roster Size will be reduced from 115 to 100 Man Faction Roster Sizes
The /near cooldown will be reduced to 20s
Prices in the MobCoin shop will be nerfed to ensure more players can take advantage of the items in stock
The Main Outpost will now give out $1,000,000 every 15 minutes to the faction holding the Outpost
The Mycelium Outpost will now give absorption 1 to all members of the faction holding the Outpost
Koth Starters will become more rare in the Special & Koth Crates
Spawner Boosters will be nerfed in the Deity, Special & Monthly Crates
The Koth Crate will be buffed to ensure Koth's are more contested to win amazing prizes
The AH limit will be increased from $30,000,000 to $300,000,000
/f Status will show players in your faction's roster
When you receive a Harvester Hoe, your name will be added to the Harvester Hoe to ensure everyone knows which Harvester Hoe is yours
Headshot will be nerfed from doing 6 hearts of damage to 5 hearts
A message in chat will popup when you use the HeadShot enchant on a player & when it is used against you
We will be adding a /koth top which will show the 10 factions with the most Koth wins
End of the World Event
Introducing our new EOTW event! When the map is about to end, a 5 minute countdown will begin in which everyone will be able to enter the event and players will be teleported to the main world. Slowly the world border will shrink forcing players closer together, thus making them PvP. The last remaining player alive will receive a Monthly Kit, Monthly Tag & keys, 2nd place will receive 2 Special Keys & third place 1 Special Key to use for the next Onyx map.
Thank you everyone for another amazing map, see you all at 3:00 PM EST on Saturday for the Onyx reset!