Greetings everyone, the newest season of Factions Onyx is here!
Realm Information
The next Onyx map will release on Saturday May 22nd @ 3:00 PM EST / 7:00 AM AEST / 8:00 PM BST.
The map will only last 8 days which means there will only be 1 payout that will be issued at the end of the map on Sunday 30th May @ 5PM EST.
8 day maps – 3 days of grace & 5 days of TNT
5 man factions
3 second cannons
15 Chunk Buffers
Faction Shields last 18 hours
900 Power per player
10 Roster Size, 1 kick per day, max of 1 at one time
F Roster kick limits enabled on Sunday @ 3:10AM EST
Faction Shields are set on Tuesday @ 3:10AM EST
Mining Spawner costs change from being free to costing 40% of their shop price on Tuesday @ 3:10AM EST
TNT drop rates changed from Grace drop rates (50%) to Raiding drop rates (100%) on Tuesday @ 3:10AM EST
Faction Shields are disabled from 12PM-5PM EST on Payout Days
5 grinding areas of 18 Silverfish Spawners in the Mycelium World (Reached & Exited via a End Portal)
Account Sharing Disallowed
No Regens
Sugarcane, Fishing, Mycelium & Spawner Economy
The ECO sheet can be found here
Limited Custom Enchants & Bow Boosting disabled
$1,400 F-Top - $800 Paypal & $600 Buycraft
9 custom worlds along with the overworld with a border of 2500 x 2500 giving 40 corners – These can be reached with the warp names: End, Nether, RedWorld, GreyWorld, ClayWorld, SunWorld, DarkWorld, CherryWorld & CrystalWorld
During grace, TNT & Creeper Eggs will be disabled
During the first 30 minutes of the map, Faction Fly will be disabled
Faction-Top Payouts
For this season of Onyx, payouts will be issued at the end of the season. Here are the prizes for the payout placings:
First Place: $500 Paypal & $250 Buycraft
Second Place: $200 Paypal & $150 Buycraft
Third Place: $100 Paypal & $100 Buycraft
Fourth Place: $50 Buycraft
Fifth Place: $50 Buycraft
Note: FTOP will be paid out once per week that raiding is enabled. The amounts listed above are the total amounts we are giving away to the winners.
How do we get our payout if we win?
Set your PayPal email on the server with the command: /paypal [email]
Set your Buycraft email on the server with the command: /giftcard [email]
New Spawn
Information Update
For the Factions realms, we've made a number of brand new menus explaining important features that you need to know if you want to be a top tier faction. Previously it was hard to find out information about these features, making it harder for new factions to learn the ropes on The Archon.
/Features
This menu has information regarding 9 major Factions features including Chunk Hoppers, Void Chests, /printer, Farmable Chests, /roam, Mycelium, /f spectate, GenBucket and Sandy.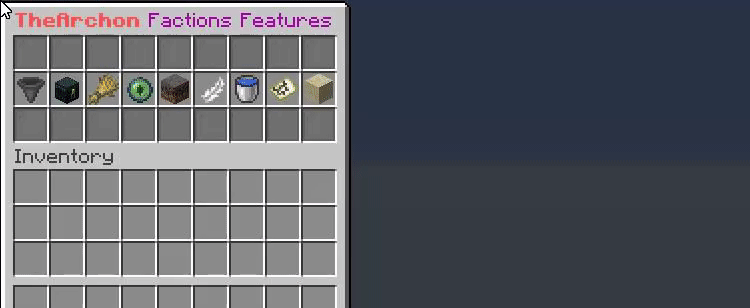 /Spawnerchunks
You can now view detailed information about what Spawner Chunks are and how to use them on Factions. This includes important information on how to not abuse Spawner Chunks, how to find them, and how to remove them.

/Ftopinfo
This menu explains in depth how Faction Top is calculated. Previously there was little to no information about this, which caused a lot of confusion amongst factions. The /ftopinfo menu shows you what can influence /f top, as well as Mob Spawner values.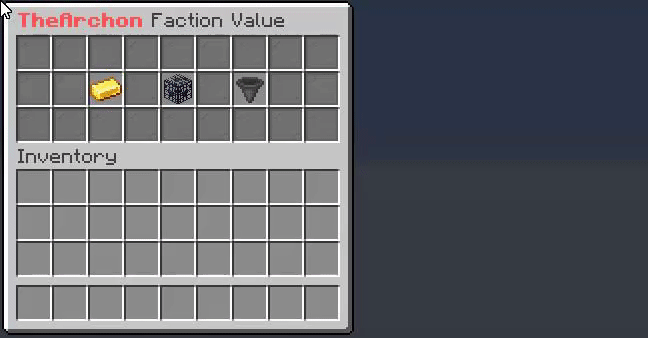 /Spawners
This new menu lists the full worth of all spawner types, as well as the value amount they increase by every 12 hours. Now you can easily understand how much your spawners are worth!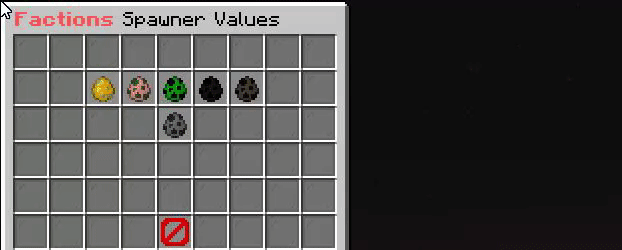 Economy Changes
This map of Onyx will be a Sugarcane and Fishing economy alongside Silverfish (Mycelium). This means that the following prices and features have been updated:
Based on feedback, Sugarcane's sell price will be increased from $30 to $40.
As a result of the above, the price to sell fish will be buffed to match Sugarcane in the safe lake.
As well as this, Netherstar's sell price will be buffed to $15,000.
Thank you everyone for another amazing map, see you all at 3:00 PM EST on Saturday for the Onyx reset! Make sure that you keep updated with the rules and store changes as we progress through this season.