Hello everyone.
Today we are happy to announce that on Saturday April 25th 2PM EST, TheArchon will be resetting the Outlands 1X gamemode!
We'd like to thank you all again for your constant support for the Outlands realms, we appreciate you taking the time to give us your feedback and suggestions to help improve the gamemode. Without further ado, let's get into the reset content!
New Spawn
It's time to say goodbye to our beloved old spawn, as we're introducing a brand new spawn build for the next season of Outlands 1x!
Rule Removal & Clan Limit
We'll be removing the rule regarding team raiding and defense. After trialing this rule, we've come to realize that it is too confusing and there are too many grey areas around it. We initially added this rule to help out smaller clans when raiding or defending their bases however it didn't prove to be as effective as we hoped.
As a result of this, for this map of Outlands 1x we'll be limiting clans to 6 players, with the option to upgrade it to 9 slots (previously it was 10 players with the option to upgrade to 15). The 2 ally limit will be kept.
Crates Revamp
We've been working hard to revamp our crate system, making the menu more visually appealing to players as well as including better prizes without making them too OP.
Some crates will now give you more than one reward and will have cool new animations for when you roll for your rewards!
Health Points Indicator & Titles
We want to make it a fair playing ground for all players on Outlands, as we know that some players have been using illegal modifications to show health points when this is not allowed - thus giving an unfair advantage.
As a result, we will now be introducing a new feature that displays all players' health in an area above their IGNs. Look out for when an enemy is low in health so you can secure the kill!
As well as this, we are adding a new title/tag system. Next to your health indicator you'll be able to see and use titles that will be obtainable in game through crates after the reset!
New Tutorial Map
Along with a new spawn, we'll be adding a new tutorial map! This new map will make it easier to understand where each stage of the tutorial is located, with the route being illuminated with particle effects.
City Boss
Introducing the new Zombie Boss! This boss will spawn in the Farm City every day at 3:00 PM EST. When killed, the boss drops rare items such as crates, Guardian Shields and more!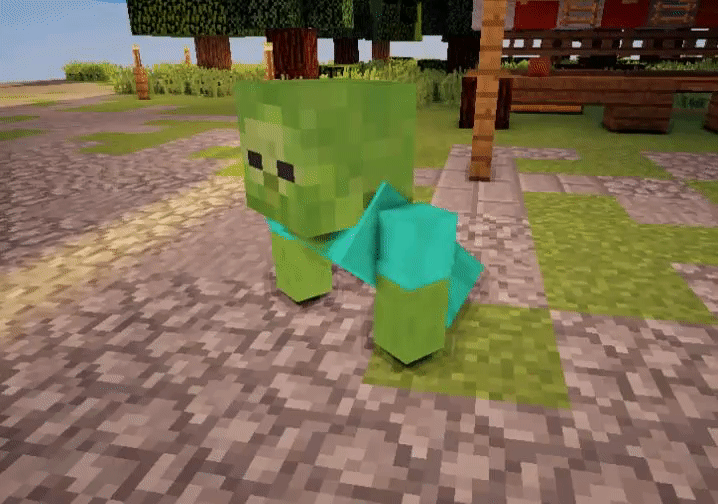 PvP Hologram
We'll be implementing a new hologram system to show when someone is tp'ing in another player during a fight. This allows players to know when you're no longer participating in a 1v1 instead of just seeing another player appearing out of nowhere.
A hologram will appear in the place where the teleport request was accepted and it will show how long until the player arrives. The player that is teleporting in will appear where the hologram is.
PvP Balancing
Each item of armor has had it's resistance to damage reviewed and reworked. Armor will also have it's lore information about how much protection it provides updated to show a more accurate number.
As well as this, we're slightly changing how shooting works while scoped and unscoped. Aiming your weapon by looking down the scope or iron sight will always be the most accurate way to shoot. Shooting whilst unscoped will decrease the shooting accuracy, that means that the bullet can end up firing to a different area regardless of where you are aiming.
Turret & Anti-Aircraft Limits
Players will now be limited to how many turrets / anti-aircraft they can place depending on what level their tool cupboard is. The higher the tool cupboard level, the more turrets you can place, with the initial limit being 2 turrets and 1 anti-aircraft and the maximum being  20 turrets and 8 anti-aircraft.
Statistics System
This change will have no influence on gameplay but by adding this new statistics system, it will allow us to collect data and compare it to data from 1x and 2x as well as past resets. It'll be able to tell us how effectively our special systems are being used and what the retention between wipes is. With this data we can apply updates that are better catered to the players.
Free PvP Kit
During the next few days, any players on Outlands 1x will receive a PvP + Building kit for FREE as a thank you for playing on the server. This Kit will contain guns, equipment, blocks and also few C4 explosives, so be sure to join and have some fun practicing your building, raiding & PvP skills before the wipe! These kits will not be available after the wipe so use them while you can.
General Changes
A changelog containing several modifications/fixes will be posted in our #changelog channel on Discord - Stay tuned and be sure to invite your friends to play Outlands 1X on Saturday April 25th at 2 PM EST!
Thank you for continuing to place your trust in us. Please do not hesitate to reach out on Discord with any questions or suggestions regarding the reset - Discuss your opinion with other players on #outlands-chat!