Hello everyone! Today we are happy to announce that on Saturday May 22nd @ 2:00 PM EST / 6:00 AM AEST / 7:00 PM BST. we will be resetting the Outlands gamemode!
Top 5 Payouts
The map will last 3 weeks. Payouts are evaluated every Friday at 5PM EST - The 1st week after the wipe will not have payouts, only the 2nd and 3rd weeks.
Weekly Rewards:
First Place: $150 PayPal & $120 Buycraft
Second Place: $100 PayPal & $70 Buycraft
Third Place: $55 Buycraft
Forth Place: $35 Buycraft
Fifth Place: $25 Buycraft

How do we get our payout if we win?

Set your PayPal email on the server with the command: /paypal [email]
Set your Buycraft email on the server with the command: /giftcard [email]
Conqueror Ranking
As an incentive to not kill peaceful players (users with less than 10 hours of gameplay), you can earn Buycraft rewards for having the highest amount of points in the Conqueror ranking system.
This reward is evaluated on the last Friday of the season at 5:00PM EST.
Season Rewards:
First Place: $30 Buycraft
Second Place: $20 Buycraft
Third Place: $15 Buycraft
Forth Place: $10 Buycraft
Fifth Place: $10 Buycraft
How do we get our rewards if we win the Conqueror ranking?
Set your Buycraft email on the server with the command: /giftcard [email]
Extended Clan Slots
For a while now, we've had small clan sizes with no alliances, so we wanted to try having a new season with increased clan slots that we haven't tried before. We are interested to see how this will impact general day-to-day life including PvP and raiding on Outlands.
That being said, for our upcoming season the clan slots are being increased to 8 members with no upgrades, or 10 with upgrades. We'll be monitoring this closely to see how it changes life on the server, and we hope that everyone will enjoy being part of larger clans.
PvP Tablist Armor
A few months ago we ran a survey asking people if they would like to see whether other players are wearing unique equipment or not. This would allow players to show that they are powerful and ready to fight in PvP, regardless of where they are on the map.
The response to this survey was overwhelmingly positive, and as a result we have added an awesome new way of seeing whether players have unusual or rare armor equipped.
How does it work?
If you have any part of Kevlar (Mythic or Legendary) or Soldier (Mythic or Legendary) equipped, the armor will be displayed in the tablist. This means that when you tab and see the players online list, there will be armor symbols next to each player.
You can have up to 4 symbols next to your name, 1 for each part of the armor set - helmet, chestplate, leggings or boots. Any other armor rarity not mentioned in the list above will not be displayed in the tablist. This means that if a player is wearing 3 parts of Kevlar Common and 1 part of Kevlar Mythic, only the Mythic armor will be displayed, therefore, there will be only one symbol before the player name in the tablist.
Wing Particles
You can now obtain brand new Wing Particles that will be displayed on your back during all types of server gameplay. These Wing Particles are split into 2 categories - Free and Premium. You can also get a pair of wings if you buy a bundle from the server store. When unlocked, you can access the wings using /particles.
Premium
The Demon and Angel wings can be won from the PvP crate as a permanent particle effect. This means you'll keep these wings forever!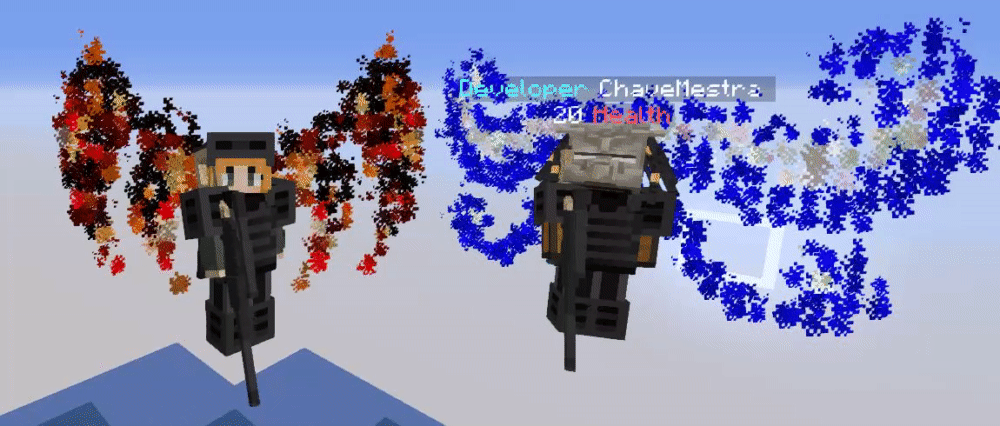 Free
The Emerald wings can be won from Quest II crates, and last the duration of the season. This means that when the season is over, you'll no longer have access to them.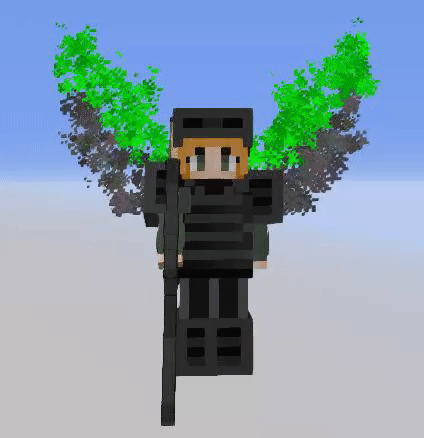 Bundle
The Gold Wings come as part of a server store bundle that will be added for this upcoming season. These wings will also be season-only.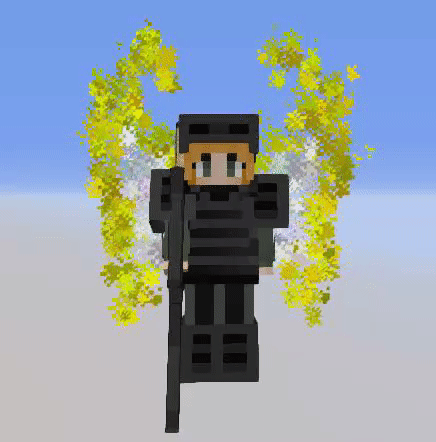 New Gun & Mask
We often like to rework our current features to make sure that they are the best they can be, and when we are satisfied with this, we are happy to introduce brand new items that switch up the gameplay a little bit. We are looking forward to seeing how these new items will effect PvP.
Golden Double Barrel
This dazzling new shotgun will have only two shots in the magazine. However, the damage output of these shots will be high, and the gun has the ability to shoot at a considerably fast pace.
Drop: Premium Supply Drops.
Alien Mask
This eerie new mask is a must have, as it can protect you from powerful Flashbangs and Molotovs!
Drop: PvP Crates
Ammo Barrel
We are aiming to improve the loot you can receive from inside radiation cities, so we are introducing a new Ammo Barrel that has a 10% chance of spawning in the same place of normal barrels. This new barrel will give you a large quantity of ammunition when you loot it, so be sure to make your base close to cities and frequently visit them to grab it all!
Additional Information
72h of Grace Period.
Tierlock period remains the same, including cupboards.
Fixed incorrect reward descriptions on the /level menu.
Buffed the Orepile Crate drops.
Players will now get a notification in their mailboxes once the weekly kit is available.
Added a new menu for TC owners to check what recent items were moved inside chests from that cupboard area.
Slightly increased the difficulty of finding Guardian Shields in the Quest II Crates.
Increased the chance to obtain Recyclers in Supply Crates.
Added small Illegal Farm areas around city locations.
Medkits are now slightly harder to craft.
Added a new anti-toxicity chat system that will replace toxic words with other messages.
Reorganized the Mining Quarry menu for a better user experience.
Added a new daily rank (with rewards) for Villain kills.
Added back the Bounty event, working only at the middle biome.
The recruitment menu will now be opened straight away after creating a clan.
Reworked the Soldier mechanics, making them work more smoothly.
Added a new crate/tools bundle on our webstore.
Free PvP Kit
Right after Friday's Payout @ 6:00PM EST, any players on Outlands will receive a PvP + Building kit for FREE as a thank you for playing on the server. This Kit will contain guns, equipment, blocks and also few C4 explosives, so be sure to join and have some fun practicing your building, raiding & PvP skills before the merge! These kits will not be available after the wipe so use them while you can.
Thank you for your ongoing support towards the Outlands realm. Please do not hesitate to reach out on Discord with any questions or suggestions regarding the reset - Discuss your opinions with other players in the #outlands-chat!