Prison: The Combat Update
Hey everyone! This week's content update will be for the Prison Azkaban realm, and we have added a brand new custom enchantment, made some changes to Pets and Pet Armor, as well as added a Contraband drop event!
HeartBreaker Enchantment
This brand new Legendary sword enchantment will break the hearts of your enemies by stripping away their resistance or giving them weakness.
When this enchantment activates and your enemy has resistance, then HeartBreaker will take that resistance away and blocks the player from having resistance again for a certain amount of time. If the enchantment activates and your enemy doesn't have resistance, then it will give them weakness.
HeartBreaker has 2 levels:
Level 1 - blocks resistance for 15 seconds or adds weakness for 15 seconds.
Level 2 - blocks resistance for 30 seconds or adds weakness for 30 seconds.
Pets & Pet Armor Updates
The Iron Elemental pet now has a new ability that you can activate when you're walking it! When you crouch to activate the ability, you'll be able to deal more damage to bosses for a certain amount of time.
Your Pet Armor will now take damage like normal armor if you're hit while wearing it, but cannot be broken. As a result of this, we have added a new Pet Armory section to your Pet Ranch.
To fix your pet armor, you must remove the relevant pet from your Ranch and add it to the pet slot in the left side of the Armory. If you have Gold Pet Armor that needs to be repaired, then you'll need a Gold Elemental Pet to repair it.
You can place a whole set of Pet Armor in the Armory, and your pet will repair every piece by a certain amount of points every hour until it's at full durability. Once it's done, simply remove the armor and wear it! There's no limit to how many times you can fix your pet armor, you just need to dedicate time.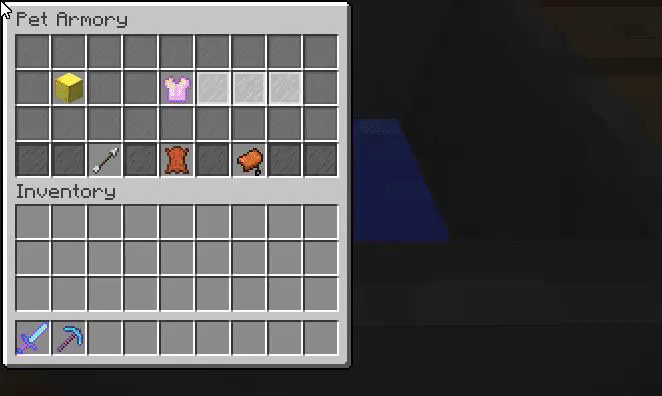 Contraband Drops
Every 3 hours a Contraband Drop Event will begin in the warzone. In chat, the coordinates will be shown for all of the Contraband that drops in the warzone, so they're easier to find.
When you find a Contraband drop, you must mine it with a pickaxe to collect it's contents. Be careful though, as you'll be given blindness as you start mining the Contraband drop - so keep your guard up!
You can win a variety of items from Contraband drops such as Candies, Tokens, Crate Keys, Fragments, one time kits and more!
We hope you enjoy this week's Prison content update and are excited for the next set of updates that we have planned. Be sure to take some time to try it out and feel free to leave us your feedback on our Discord server: