The current season of Prison has come to an end and the realm will be resetting this Saturday May 28th @ 2:00 PM EDT / 5:00 AM AEST / 7:00 PM BST.
Payouts
We have weekly payouts for Plot Top. The prizes are as follows:
1st: $200 Paypal‌‌
2nd: $50 Paypal, $90 Buycraft‌‌
3rd: $25 Paypal, $50 Buycraft‌‌
4th: $25 Buycraft‌‌
5th: $15 Buycraft
You can win prizes if you're in one of the top 3 places in Prestige Top. The payouts for Prestige Top are:
1st: $50 Paypal‌‌
2nd: $30 Buycraft‌‌
3rd: $20 Buycraft
Blocks Mined Payouts are as follows:
1st: $50 Paypal‌‌
2nd: $30 Buycraft‌‌
3rd: $20 Buycraft
You can view the current standings for Prestige Top and Block Mined by finding the NPCs at spawn.
Map Points
Each week, the top three teams will be given the following points:
1st Place - 3 Points
2nd Place - 2 Points
3rd Place - 1 Point
These will be manually given out after the payouts and strike reports for the week have been fully dealt with.
Players who are members of teams in the top 3 positions will have numbers next to their name in chat depending on what position they're in. Show off in chat that you're the best Prison player on the server!
Team Size
For the upcoming season of Prison, there will be up to 5 players per team with an opportunity to upgrade it to 7 (more details in the post).
We are also implementing a new Account Sharing rule with NO IP LIMITER. This rule will be strictly enforced by the Prison DQ Team, and there will be once a week log checks to make sure this rule is not broken by any competitive plots.
New Spawn and Warzone Changes
We're moving into the Summer, and the terrain has dried up. Can you survive in this scorching land?
The Warzone has been expanded and how includes 2 KoTHs and an Outpost! Check it out:
Dungeons
Deep underground, in an unfamiliar land that has mostly been left unexplored, lay powerful beings that are not too happy that you've stumbled across their sacred territory. You've awoken them from their eternal slumber, and now they're rising up to strike back - destroying everything you know and love in the process...
Fight and parkour your way through these dark dungeons to keep the bosses at bay, and earn some awesome rewards while you do it!
To begin fighting in these dungeons, simply type /boss in the chat and it'll bring up a menu. Every dungeon has a maximum of 10 players. Here you'll be able to see that there are 4 different dungeon regions, varying in difficulty:
Easy
Medium
Hard
Extreme - Chance to win Tunneler Pickaxe!
Each dungeon will have its own series of events that you must complete in order to reach the end and fight the final boss. To progress to the higher difficulty dungeons, you must have completed the previous dungeon. This means, you must complete Easy to progress to Medium and so on.
As well as this, higher difficulty dungeons will only open up after a certain time has passed after the start-of-the-world has begun. Take a look below on the opening information:
Easy: Always open
Medium: Must beat Easy Dungeon
Hard: Must beat Easy and Medium Dungeons
Extreme: Must beat All Prior Dungeons
There is some parkour that you must traverse to reach the bosses, so you better get practicing! Upon entering the boss part of the dungeon, a pop-up will appear saying that the boss has spawned.
Upon beating the first mini-boss, the next part of the cave is unlocked that allows you to fight the next mini-boss. You can't skip fighting bosses, and must progress throughout the dungeon. The last boss you will fight is the Final Boss, and they will be the most powerful.
Upon entering a dungeon, a 45-minute cooldown will begin for that specific dungeon whereby you cannot enter it again during this time, whether you complete or fail at it.
Kits
Listed here are the kits that you'll be using in each dungeon:
Easy Dungeon Kit:
Iron Helmet: Unbreaking X, Protection III
Iron Chestplate: Unbreaking X, Protection III
Iron Leggings: Unbreaking X, Protection III
Iron Boots: Unbreaking X, Protection III
Diamond Sword: Unbreaking X, Sharpness II, Fire Aspect II
Bow: Unbreaking X, Punch II, Power II, Infinity
16x Golden Apples
2 Strength Potions (1:30)
2 Instant Health
Medium Dungeon Kit:
Iron Helmet: Unbreaking X, Protection IV
Iron Chestplate: Unbreaking X, Protection IV
Iron Leggings: Unbreaking X, Protection IV
Iron Boots: Unbreaking X, Protection IV
Diamond Sword: Unbreaking X, Sharpness III, Fire Aspect II
Bow: Unbreaking X, Punch III, Power III, Infinity
16x Golden Apples
2 Strength Potions (1:30)
2 Instant Health
Hard Dungeon Kit:
Diamond Helmet: Unbreaking X, Protection IV
Diamond Chestplate: Unbreaking X, Protection IV
Diamond Leggings: Unbreaking X, Protection IV
Diamond Boots: Unbreaking X, Protection IV
Diamond Sword: Unbreaking X, Sharpness IV, Fire Aspect II
Bow: Unbreaking X, Punch III, Power III, Infinity
16x Golden Apples
2 Strength Potions (1:30)
2 Instant Health
Extreme Dungeon Kit:
Diamond Helmet: Unbreaking X, Protection V
Diamond Chestplate: Unbreaking X, Protection V
Diamond Leggings: Unbreaking X, Protection V
Diamond Boots: Unbreaking X, Protection V
Diamond Sword: Unbreaking X, Sharpness V, Fire Aspect II
Bow: Unbreaking X, Punch IV, Power IV, Infinity
16x Golden Apples
2 Strength Potions (1:30)
2 Instant Health
Rewards
When you've successfully defeated one of the bosses, loot chests will spawn, scattered around you. You must be quick in claiming them, as it's first come, first serve, with only 10 seconds until you're teleported back to the dungeon start to continue your progression. Only 1 person can claim a chest, so simply right-click on the chest to receive it's reward.
Each dungeon has it's own prize pool, so the more difficult the dungeon is, the better the rewards are! Prizes consist of Bombs, exclusive tags, and crate keys!
Store Changes
We're making some pretty big changes to the content that we sell on the server store, including an overhaul of useless items, and edits to existing items and prices. Take a look
You will see updated prices for a large amount of the bundles, reducing them slightly compared to last season.
We've now added all sizes of Pmines to the store! Previously players could only purchase small Pmines.
Previously the Void Backpacks you could buy only had 150 slots, now you can purchase a Void Packpack with 1000 slots!
Similarly, you can purchase an OP Regular Backpack that has 100,000 slots.
The following Gkits have had a significant buff to the enchantments they have.
- Slayer
- Enchanter
- Grinder
Cosmetics
We are doing a massive cosmetics overhaul, and have added 4 new crate keys - Spray Crate Keys, Pickaxe Crate Keys, Trails Crate Keys, and Tags Crate Keys! You can look forward to seeing exclusive items in these crates, particularly in the Tags and Pickaxe Crates.
Grab yourself one of 5 new Pickaxe Skins, only available in the Pickaxe crate
Gears
Reptilian
Primitive
Crystal
Ultra
New Bundles
These awesome new bundles allow you to get a handful of items in 1 bundle and save 10% in the process! You could purchase the Starter, Casual and Extreme bundles - check them out:
Starter Player Bundle - Goon Rank, Explorer Crate Key Bundle, Small Private Mine
Casual Player Bundle - Heroic Crate Key Bundle, Medium Private Mine, Bomb Bundle
Extreme Player Bundle - Mythical Crate Key Bundle, Large Private Mine, Autominer
Milestones
Hit Milestones while playing on Prison and earn rewards! Introducing the new Milestone system, where you can track your stats on important aspects of Prison, and passively receive prizes.
There are 4 types of Milestones you can work towards, with 5 tiers to each one:
Father Time - Play for a certain length of time
Dedication - Break a large amount of blocks
Token Earner - Earn lots of Tokens
Money Maker - Hit money milestones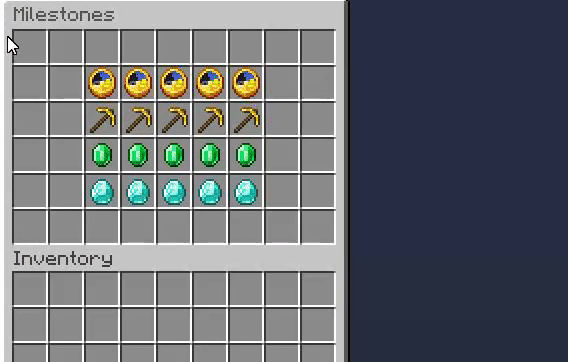 You can receive different rewards for different milestones, such as Crate Keys, Boosters, Mine-Bombs, and finally, tags! Have the ultimate bragging rights by reaching the final Milestone by showing of your extremely rare, exclusive tag in chat! You can't receive these tags anywhere else.
Private Mine Changes
There have been a number of changes being made to Private Mines to make them more accessible to players, as well as making them a more inviting feature to use in day-to-day life on Prison. This includes an awesome new menu that makes all of the features easy to see and understand.
This new menu also allows you to see and kick members, previously this was in a difficult to understand text-based system.

Player Slots
You can now purchase additional player slots for your mine! Previously you could only have a maximum of 3 players per mine, which wasn't reasonable when plots had up to 10 members. There are 3 different ways that you can buy an extra slot for your Player Mine:
First Slot = $100T in-game money
Second Slot = 100million Tokens
Third Slot = $5 on the server store
You can purchase these additional slots in no particular order.
Lucky Perk
Through the /pmine menu in the Upgrades section, you can now apply the Lucky Perk to your entire mine! This means there will be a random change for a Lucky chest to spawn in the mine with an assortment of random items inside, which are dependent on the owner's prestige level.
To unlock the Lucky Perk, the owner must have 1B in-game currency and 10M Tokens, as well as a Prestige level of 50. You cannot unlock the upgrade if you don't hit these requirements.
The items that you can receive from the Lucky chests consist of booster, pouches, and Mine-Bombs!
Mine Resets
Through the /pmine menu, you can now reset/refresh your Private Mine using money and tokens! After reaching Prestige 50, you'll have the ability to reset your mine every minute, 2 minutes, 3 minutes, 4 minutes or 5 minutes! No longer will you have to wait for the mine to reset on it's own!
Autominer
We're adding a range of features to the Autominers to make them more viable on Prison.
Storage System
Autominers now have an upgradable storage system that allows you to store blocks within the Autominer and not your inventory or backpacks. Your Autominer will automatically come with 30 slots, and you can unlock more slos using Tokens.
You can purchase additional slots through the /autominer menu, which includes the ability to purchase slots in bulk. There is a maximum of 2000 slots that you can have.
Auto-Sell
There is now an unlockable Auto-Sell feature within the storage system in your Autominer that allows you to sell stored blocks at certain timeframes. You can purchase them using in-game currency.
Autosell once every 10 minutes: 10T
Autosell once every 5 minutes: 20T
Autosell once every 3 minutes: 100T
Autosell once every 1 minute: 1Q
There will be a 10% processing tax per Auto-Sell however, you will be able to purchase a Tax Evasion perk for 10Q in-game currency that bypasses the tax.
Plot Expansion
Every season, every plot will start with 5 standard members, however you can add 2 extra plot team slots that will be purchasable in-game and on the server store.
The first extra slot will cost Tokens and money:
The second is purchased from the store:
Backpack Changes
Previously, players would have a large number of normal backpacks in varying sizes and types. Now, players will only have 1 backpack that they can upgrade!
You can now purchase additional slots for your Backpacks via the Token Shop /ts. You can unlock as many slots as you want for your Backpack as there is no limit!

Void Backpacks
Void Backpacks are a popular feature amongst players, so we've made some changes to make them even better than before!
Similar to normal Backpacks, you can now upgrade Void Backpacks via the Token Shop! As well as this, you can now adjust the sell timer for your Void Backpack via the menu. To access this menu, simply right-click whilst holding your Void Backpack. You can unlock adjustment ability using Tokens.
Void Backpack Adjustable Abilities will be the following:
30 seconds
1 minute
2 minutes
3 minutes
4 minutes
5 minutes
Wow, you've made it to the end of this lengthy reset post! We're constantly working hard to make Prison an enjoyable realm for you all, and are thankful for the feedback we receive every season.
We are looking forward to seeing you all for the hype new season of Prison on Saturday May 28th at 2:00 PM EDT! Feel free to let us know what you think about the upcoming season on our Discord server.