Hey everyone, welcome to the Robbery Reset post.
The reset for the Robbery realm will be released this Saturday February 13th @ 2:00 PM EST / 4:00 AM AEST / 7:00 PM BST
Thank you for your dedication to the Robbery Realm, and making last season so great. We have a few new features that we will be adding to this upcoming season, so without further ado, let's get into it!
Daily Global Challenges
Introducing new daily Global Challenges! You will now be able to participate in a different global challenge every day, where all players who help reach the goal receive a reward!
To access the challenge menu, do /challenge. You'll see that there is a goal that you'll need to complete, and how much you'll need to do personally to contribute to that goal. For example, if the Global challenge is to reach 10,000 EXP gained, then you will personally only have to contribute 1,000 EXP.
If the Global challenge goal is met, then every player who reached their personal goal threshold at the end of the day will receive a prize! The rewards are different every day, but they can be items like crate keys or boosters! All players who helped contribute to the goal will have their head shown in the Daily challenge menu.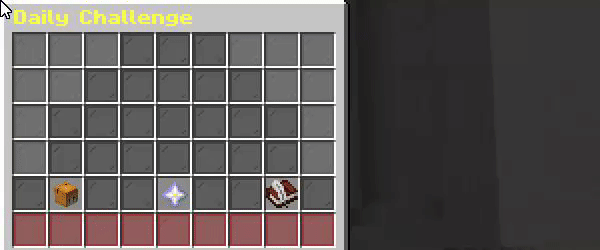 New Ability
Our newest Ability - Item Voider - will activate randomly and will instantly sell up to 5 items from your Jacket, depending on your ability level. You'll receive a small message on screen telling you how many items you've just sold and how much money you made using the ability.
You can view all of our current abilities using /ability, where you can click to upgrade them using Ability Points.
Thief Stat Tracking
You can now view certain statistics of things relating to your Thief, such as the amount of times it's been caught, how many items it's stolen, how much money it has earned overall, and more!
To view your Thieves stats, go to your Guild Manager menu via /gm and hover over your Thief.
Quality of Life Changes
Last but not least, this upcoming season of Robbery will have a number of Quality of Life changes to make things overall smoother and more enjoyable for players.
Boosters are now virtual, you can left-click the Boosters (gold bar) item in your town hotbar to open your Booster menu.
Brand new pouch - Ability Points pouch - You can obtain these from different crates and store quests!
Added /bail - this command opens up the Bail Out menu when you are in jail to give you the option to bail out after the menu has been closed.
We have revamped the /level menu to make it more useful than before! Previously you would only be able to teleport to the current store that you were stealing at, now there is the option to teleport to any of the stores that you have unlocked. This command is a perk for the Kingpin rank or higher.  You can also access the menu using the lever item in your hotbar.
The prices for Jackets and Gloves have been adjusted.
You can now toggle thief stealing messages by typing /togglethiefmsg.
There is a new item in the hotbar that allows you to see what is currently in your loot bag. Click on the chest to open it up.
Keep your eye out on our Discord, Twitter, and website for all the new updates coming out in the future. Thank you everyone for awesome map, see you all at 2:00 PM EST on Saturday for the Robbery reset!