Hey everyone, welcome to the Robbery Reset post.
The reset for the Robbery realm will be released this Sunday June 13th @ 12:00 PM EST / 2:00 AM AEST / 5:00 PM BST
Thank you for your dedication to the Robbery Realm, and making last season so great. We have a few new features that we will be adding to this upcoming season, so without further ado, let's get into it!
Leaderboard prizes
Introducing the new seasonal leaderboard prizes, with rewards being handed out to the top 3 players at the end of the season. Take a look at what you could win:
Prestige Top
- 1st: 20 Rank redeem
- 2nd: 10 rank redeem
- 3rd: 5 rank redeem
Items stolen Top
- 1st: 20 Rank redeem
- 2nd: 10 rank redeem
- 3rd: 5 rank redeem
Global Boosters
Introducing brand new Global Boosters! These boosters are activated at various times throughout the day, so you can take advantage of extra gains! These boosts can also be redeemed by players, so if you don't want to wait until certain times during the day, you can use one whenever you like!
There are loads of unique boosters that you can use, these include:
- Steal Speed
- Sell Boost
- Jacket Slot increase
- Rankup Price decrease
- Guard Cataracts (decreased chance of being caught by a guard)
- Ability Points increase
- Hideout Value increase

To view the schedule for Global Boosters, you can use the command /globalbooster or /gb - it is shown on the left side. This menu will also allow you to view the current active boosters as well as who they were activated by in the middle section. Lastly, on the right side of the menu, you will be able to see what current Global Boosters you own.
When a booster has been activated, there will be a pop up message saying who redeemed it, what the type of booster is and what multiplier it has.
Totems
Complete tough challenges as a Gang to unlock powerful boosters that are useful in everyday life on the server. Totems can be purchased from the /exp shop, and must be placed on your Hideout to begin completing challenges.
Gather all of the members from your Hideout and encourage them to participate in completing these challenges as they are difficult and grindy, so everyone can benefit from the boosters that you will unlock eventually. You will only have 1 day to complete the challenge, so make sure you do it in time!
When purchased, you'll receive the Totem physical item that you must place somewhere on your Hideout. When placed, your Totem will begin at level zero and will look like this:
Right-click your placed Totem to view the menu. You will be able to view your Totem Info, where you can see what the current level is as well as the current challenge streak and what booster you currently have activated. Click on the Challenge Info to activate your new challenge.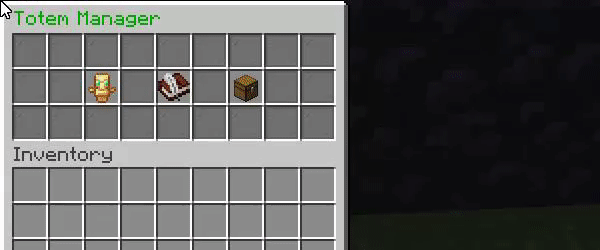 Challenges
There are a few different challenges that you can complete on Robbery. To see what challenge you currently have active, hover over the Challenge Info in the Totem menu. When you activate a challenge, all of your Hideout members will see a chat message showing what challenge you have started.
You can also see how much you have contributed to the total progress in the Totem menu as well as in a hologram above the Totem, which will update every 30 seconds.
The Totem will display a message stating that you have completed your challenge for the day. You will need to wait until the next day to begin completing another challenge.
As you progress through the challenges, your Totem will evolve. This means that after every successful consecutive challenge completed, the Totem will change and evolve into something visually different.
If you miss a day of challenges, then your Totem will reset back to zero and you will have to start again. When you hit level 7, the max level and the level where you can unlock the booster, your Totem will stop evolving unless you miss a day.
Totem Boosters
When you hit day 7, you can choose which powerful booster you wish to unlock. You must then continue to complete challenges every day to maintain this booster on your Hideout.
You can only have 1 booster active at any 1 time, and can only change the booster type once every 7 days - so be sure to click the booster you're 100% sure you want to use as you won't be able to change it again for a week. The boosters that you can choose from are:

- Spawner increase
- Jacket slot increase
- Steal speed increase
- Sell amount increase
Curses
Curses are random events given to any active online player (you won't be assigned a curse if you're AFK). Only 1 person can be cursed at any one time, and there will be an announcement in chat saying who the cursed person is and what type of curse they've been given. Find out all you need to know about Curses using /curse.
When you've been cursed, a menu will pop up where you can accept or deny the Curse. This menu will tell you which Curse you'll need to do and what rewards you can get from completing it.
To complete a Curse, you must carry out the task that it requires you to do. These tasks will have time limits and must be completed in one life, meaning that if you die or log out, you'll fail. When you complete the Curse, you'll be given the reward.
How To Complete a Curse
Anyone who is in the process of completing a Curse can be killed at any time, no matter where they are on the server. This means they can be killed at spawn, or any other safe zone where you usually wouldn't be killed at.
Players who want to fight the cursed player must hit them first in order for PvP to be activated in a safe zone. Cursed players can't hit other players unless the other players hit them first, so if you don't hit the cursed player when they're actively doing a task, then you won't be put in combat and therefore are safe in the usual safe zones.
Players will get a broadcast in chat telling them the Cursed player's coordinates and what world they're in, so it is easier to locate where they are.
Curses that you can take part in now on Robbery include:
- Steal a certain amount of items
- Gain a certain amount of Ability Points
- Collect a certain amount of Value
- Store Traveler
Archon Pass
The Archon Pass has been added to Robbery and allows players to complete a variety of challenges to win rewards! The challenges vary from stealing items, earning Ability Points, buying gloves or jackets, collecting EXP, claiming Skydrops, completing quests, dealing damage to bosses and so much more!
When you complete the challenges, the rewards you receive are definitely worth your time. You can win spawners, boosters, crate keys, ability points and more!
Players who have purchased the Premium Archon Pass from our server store or Rank Redeem Balance will get 2 rewards per challenge completed compared to the Free Pass that everyone has access to. Grab yourself the Premium Archon Pass from the server store here.
Abilities Update
Introducing the new Ability Shop! Use your excess Ability Points on awesome items including armor, weapons, tools and Stacker Wands, or God Apples, limited access to perks, pouches and more! You can access the Ability Shop through the /ab menu or use the command /abshop.
Pocket Stuffer
This brand new premium ability will completely fill up your entire loot bag with the item you just stole when it activates. Pocket Stuffer only has 1 level to it, so when obtained you can truly stuff your pockets with loot instantly, allowing you to make super fast profit!
You can win the Pocket Stuffer ability through crates, or the last tier of the Archon Pass, making this powerful ability very rare.
Additional Changes
Added a Flat Hideout option when creating a Hideout.
Players will now receive rewards for Prestiging. There will be 1 reward for each prestige up to 25 and then 1 reward every 5 Prestige levels after that.
The /confirm command can now be toggleable by using the /confirmtoggle command, but please note when if you disable it, then staff will not refund loot bags lost for accidental teleports.
Newly added Prestige Adventures Challenges. This means that when you Prestige, you unlock challenges.
Keep your eye out on our Discord, Twitter, and website for all the new updates coming out in the future. Thank you everyone for awesome map, see you all at 12:00 PM EST on Sunday for the Robbery reset!