Greetings everyone, the newest season of Factions Ruby is here!
Realm Information
The next Ruby map will release on Saturday July 4th @ 3:00 PM EST/6:00 AM AEST/8:00 PM BST
20 day maps – 6 days of grace & 14 days of TNT
10 man factions
4 second cannons
20 Chunk Buffers
Faction Shields last 14 hours
400 Power per player
15 Roster Size 1 kick per day, max of 2 at one time
F Roster kick limits enabled on Monday @ 3:20AM EST
Faction Shields are set on Friday @ 3:20AM EST
Mining Spawner costs change from being free to costing 40% of their shop price on Friday @ 3:20AM EST
TNT drop rates changed from Grace drop rates (50%) to Raiding drop rates (100%) on Friday @ 3:20AM EST
Faction Shields are disabled from 12PM-5PM EST on Payout Days
8 grinding areas of 18 Silverfish Spawners in the Mycelium World (Reached & Exited via a End Portal)
Account Sharing Restricted
No Regens
Sugarcane, Mycelium & Spawner Economy
The ECO sheet can be found here
Custom Enchants
$1,800 F-Top - $800 Paypal & $1,000 Buycraft
5 custom worlds along with the overworld with a border of 2500 x 2500 giving 24 corners – These can be reached with the warp names: End, Nether, Redworld, Greyworld & ClayWorld
During grace, TNT & Creeper Eggs will be disabled
During the first 30 minutes of the map, Faction Fly will be disabled
Faction-Top Payouts
As usual, the first 6 days of grace period will have no payout. Here are the prizes for the payout placings:
First Place: $400 Paypal & $500 Buycraft
Second Place: $240 PayPal & $300 Buycraft
Third Place: $160 PayPal & $200 Buycraft
Fourth Place: $100 Buycraft
Fifth Place: $50 Buycraft
Note: FTOP will be paid out once per week that raiding is enabled. The amounts listed above are the total amounts we are giving away to the winners.
How do we get our payout if we win?
Set your PayPal email on the server with the command: /paypal [email]
Set your Buycraft email on the server with the command: /giftcard [email]
New Spawn
With a new season comes a brand new spawn! Check it out below:
Mycelium Citadel
Introducing the Mycelium Citadel! We will be converting the Mycelium Outpost into a Citadel when Onyx resets.
The Mycelium Citadel will operate similar to the current Outpost and will contain the same rewards however, to get into the innermost structure of the Mycelium build, you'll need to break through walls with a high durability pickaxe.
Only players who have captured the Citadel will be able to place blocks to replace the wall if it becomes damaged by people trying to enter. As well as this, all Silverfish Spawners within the Mycelium World will be protected by these same walls.
Trapped Custom Enchantment
We will be adding a new Sword Enchant called Trapped. This enchant will have 3 levels, and each higher level will increase the chance for you to trap a player in a cage with you for 3 seconds.
Blackjack
Each player starts with 2 cards, and the goal is to either beat the dealers score, get 9 cards in your deck or get a Blackjack (21 points)!
You can play with up to 5 friends against the server or as a solo player. Players must place bets every round and the winner receives it all when the game is over.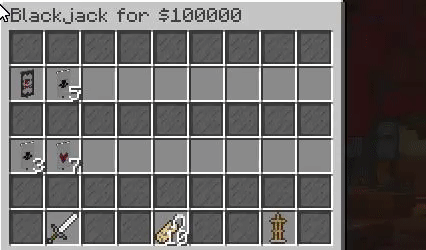 Hit means that you want to pick up another card to add to your hand.
Stand means that you're happy with your current cards and don't wish to pick up any more. After you click stand, then the dealer will pick cards until they reach or pass 17 points.
Bet Conditions
If you hit a perfect Backjack, aka if your total points is 21, then the multiplier for the money won is 2.5x how much you bet. If you win but your total is not 21, then the multiplier for your the money won is 2x how much you bet.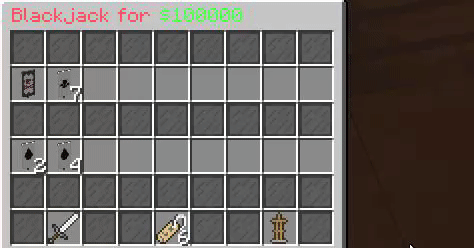 If your deck's total matches the dealer's total, then you receive your money back.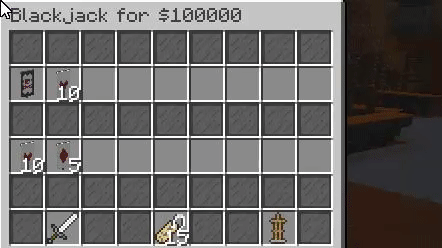 If you fill up all 9 of your card slots and don't go over 21, then you automatically win the round, disregarding how close other players are to 21.
Additional Changes
To ensure water mechanics in later Minecraft versions cannot be used to give a significant advantage, we will be limiting the speed 1.13 & above players can move in water.
We have increased the sell price of Iron Ingots to $120 per ingot & the sell price of Iron Blocks to $1080 per Iron Block
We have increased the sell price of Emeralds to $60 per emerald & the sell price of Emerald Blocks to $540 per Emerald Block
We have increased the sell price of Gold Ingots to $30 per ingot & the sell price of Gold Blocks to $270 per Gold Block
We have decreased the price of Creeper Spawners in the Shop to $2,000,000 & on F Top to a maximum value of $2,000,000. The cost to mine a Creeper Spawner will be $800,000
Due to the decrease in price of a Creeper Spawner, we will modify the amount of Creeper Spawners given out in Crates & Raid Events
While grinding Silverfish Spawners, you may receive random rewards ranging from Spawners to Crate Keys!
Once a day, at 4:30PM EST, there will be a KOTH with amazing rewards that you can win for your faction!
You will now be able to see the health of players that you are PvPing below their username
You will now be able to easily have alts join your faction by using /f alts open
We will be adding a faction permission limiting who can place spawners in your faction land
We will be adding a faction permission limiting who can mine spawners in your faction land
Complete revamp of our anti-raid claim rule which now results in a limit of 2 anti-raid claims per side of the base
Addition of a base size limit of no larger than 10 chunks wide and 10 chunks long
Addition of a new rule limiting a faction to 4 cannons within the base buffer at any one time
Many more rule changes which can be seen on our rule page here
Thank you everyone for another amazing map, see you all at 3:00 PM EST on Saturday for the Ruby reset!