Hey everyone! We are excited to announce that the Survival Realm is resetting for a new season very soon!
Realm Information
The new Survival map will be released on Friday 30th December @ 1:00 PM EST / 4:00 AM AEST / 6:00 PM GMT.
New Spawn
New season, new spawn! We're diving into the deep with this new spawn build! Take a look at the tropical underwater themed spawn:
Team Winners
As season 4 of Survival on The Archon comes to an end, the top /team players will once again receive an awesome unique tag as a reward for being the best of the best! The Top team will receive the S4 Winner, S4 Top and Tropical tags, and the top 3 teams will receive the S4 Top and Tropical tags.
Updating to 1.19
After the release of Minecraft's 1.19 - The Wild update, the Survival realm has been updated to this version! This means there is a whole load of awesome things that you will be able to find around the server, including:
Frogs and Tadpoles - Comes in three variants: temperate, warm, and cold.
Allay - Finds dropped blocks or items for players, collecting the same items from the world as it holds in its hand.
The Warden - A fully blind mob that uses vibrations and smell to find players. An extremely difficult mob to kill.
Mangrove biome - Mangrove leaves, wood, planks, logs and mud blocks.
Sculk - Skulk Catalyst, Skulk Shrieker, Skulk Vein
Goat Horn - Drops when a goat rams coal ore, copper ore, emerald ore, iron ore, log, packed ice, or stone. Can play a loud sound that can be heard from afar, with 7 variants.
New Music Disk - fun new tunes!
Resource World
We understand it is hard finding resources particularly after the season has been live for a while, so this new world allows you to gather everything you need, with little hassle! The Resource World is separate from the main Overworld that you'd normally play in. This unique world regenerates daily and is home to Monuments, allowing players to gather resources and explore untouched lands every day!
You can make your way to the Resource World via /resourceworld or the Explorer NPC at spawn. Interacting with the Explorer will bring up a menu that allows you to teleport to the Resource World spawn, teleport to a random area in RW, and also has information about when RW resets.
Setting homes in the Resource World is allowed, however they will be cleared when the world regenerates after the server reboots. You also cannot claim land in the RW. Be careful when traversing the terrain, as PvP is enabled.
The Resource World has a limit of 10,000 x 10,000 blocks. The Nether will be enabled in the Resource World with a border of 1,250 x 1,250 blocks and will also be reset daily, however The End will be disabled and is inaccessible. Don't worry though, The End will still be enabled in the normal Overworld.
Monuments
With the addition of the Resource World, there have been a few changes made to Monuments. Firstly, Monuments will now no longer spawn in the normal Overworld, and instead will spawn in the Resource World. As a result, the regeneration ability has been removed due to the RW resetting daily. This change is to prevent players setting home and farming the same Monuments repeatedly.
Competitions
The new Competition system is similar to quests and will be replacing them, however instead of completing these quests individually, where the top players will earn rewards!
Every 3 hours a competition will begin, lasting for 30 minutes. Competitions consist of a random challenge that players can compete in. After the competition has ended the top players will be shown in chat, and are given their rewards. The reward system is as follows:
1st Place - Gold Tier
50 Tributes and 2 Epic Keys
2nd and 3rd Place - Silver Tier
35 Tributes and 2 Legendary Keys
Top 25% of players -  Bronze Tier
20 Tributes
When a player wins 1st place - Gold Tier in the event, they will receive 1 gold Win Credit which can be used in the Gold Tags shop. To find out more information about Competitions, do /competition. Here you can see what the current competition is, when the next competition will begin, and how much you've contributed to the current goal.
The /stats and /lb menus have also been updated to include the Competitions Wins for first place only, as well as Tributes Earned. These will be added to the Events category.

Tributes can be spent on limited tags, trails, bundles, crate keys and more in the Tributes shop! This means that even if you don't win events, if you actively partake and do well in them, you can still bag some awesome items.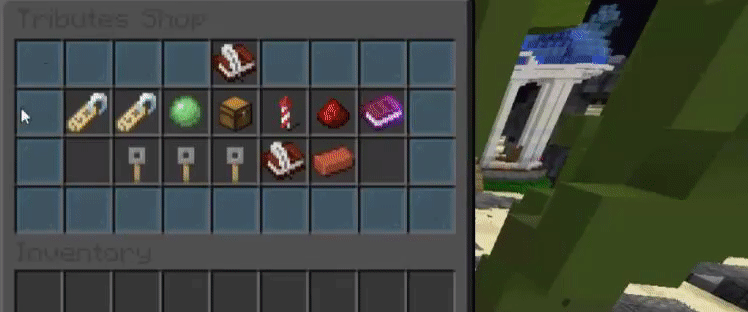 Job Changes
There have been a handful of changes to Jobs as a result of the upgrade to version 1.19:
Every block/item/mob from each job has been sorted from A-Z (previously it was in a random order).
Added more tools/armor/weapons to Smith job.
Added over 300+ more blocks to the Builder job.
Additional Information
Last but not least, here are a number of miscellaneous changes:
As per usual the End will be disabled on release and enabled a week after release.
The /help menu has been given a fresh new look.
/team create has been added as a command alternatively to typing /teams and clicking on the Create Team option.
New scoreboard theme/layout.
Added spawner stacking. This saves space and creates smaller, more effective spawner areas.
We hope you're as excited as we are for the next season of Survival and we look forward to seeing you all on Friday 30th December at 1:00pm EST. Feel free to let us know what you think about the reset in #survival-chat on our Discord server: