Introducing the brand new Totems to Skyblock and Prison! This mysterious object has been lost in time for centuries and only recently rediscovered - Learn the Totem's secrets to unleash it's immense power.
What Are Totems?
Complete tough challenges as an Island or Plot to unlock powerful boosters that are useful in everyday life on the server. Totems can be purchased from the /MobShop on Skyblock or the /EXPShop on Prison, and must be placed on your Island or Plot to begin completing challenges.
Gather all of the members from your Island or Plot and encourage them to participate in completing these challenges as they are difficult and grindy, so everyone can benefit from the boosters that you will unlock eventually. You will only have 1 day to complete the challenge, so make sure you do it in time!
When purchased, you'll receive the Totem physical item that you must place somewhere on your Island or Plot. When placed, your Totem will begin at level zero and will look like this:
Right-click your placed Totem to view the menu. You will be able to view your Totem Info, where you can see what the current level is as well as the current challenge streak and what booster you currently have activated. Click on the Challenge Info to activate your new challenge.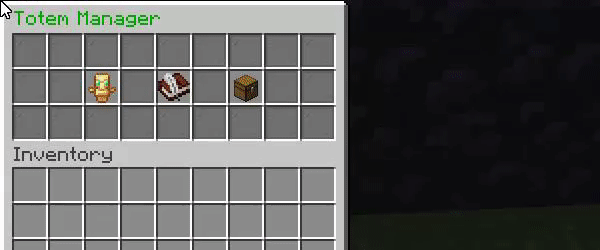 Challenges
Challenges come in a variety of shapes and sizes on both Skyblock and Prison. To see what challenge you currently have active, hover over the Challenge Info in the Totem menu. When you activate a challenge, all of your Island or Plot members will see a chat message showing what challenge you have started.
You can also see how much you have contributed to the total progress in the Totem menu as well as in a hologram above the Totem, which will update every 30 seconds.
The Totem will display a message stating that you have completed your challenge for the day. You will need to wait until the next day to begin completing another challenge.
As you progress through the challenges, your Totem will evolve. This means that after every successful consecutive challenge completed, the Totem will change and evolve into something visually different.
If you miss a day of challenges, then your Totem will reset back to zero and you will have to start again. When you hit level 7, the max level and the level where you can unlock the booster, your Totem will stop evolving unless you miss a day.
Totem Boosters
When you hit day 7, you can choose which powerful booster you wish to unlock. You must then continue to complete challenges every day to maintain this booster on your Island or Plot.
You can only have 1 booster active at any 1 time, and can only change the booster type once every 7 days - so be sure to click the booster you're 100% sure you want to use as you won't be able to change it again for a week. The boosters that you can choose from are:
Skyblock
Spawner Booster - Increases the amount of mobs that spawn
mcMMO Booster - Increases your mcMMO gain
EXP Booster - Increases the amount of EXP you gain
Chunk Hopper Booster - Increases the speed of Chunk Hoppers
Crop Growth Booster - Increases the speed of crop growth

Prison
Mine Sell Booster - Increases the amount you sell blocks for at mines
Dust Booster - Increases the amount of Dust you receive
Token Booster - Increases the amount of Tokens you earn
Crystal Booster - Increases the amount of Crystals you gain
Fragment Booster - Increases the amount of Fragment you earn
EXP Booster - Increases the amount of EXP you gain

We hope you are looking forward to completing challenges for the new Totems on Skyblock and Prison and earning boosters! Feel free to leave us your feedback on our Discord server over in #player-suggestions!